101 102 FIRSTS, FACTS, AND EXCLUSIVES YOU NEED TO KNOW ABOUT ALLISON BOATS
Allison is the undisputed world leader of pioneering designs, inventions, and performance achievements in the outboard boating industry. There is probably not a single manufacturer or performance boating enthusiast that is not enjoying and taking advantage of at least some of the revolutionary accomplishments of Allison. Most all convenience or performance features found in every bass boat built today, had its beginnings in an Allison boat. Allison invented the modern-day high performance bass boat and has revolutionized the entire boating industry.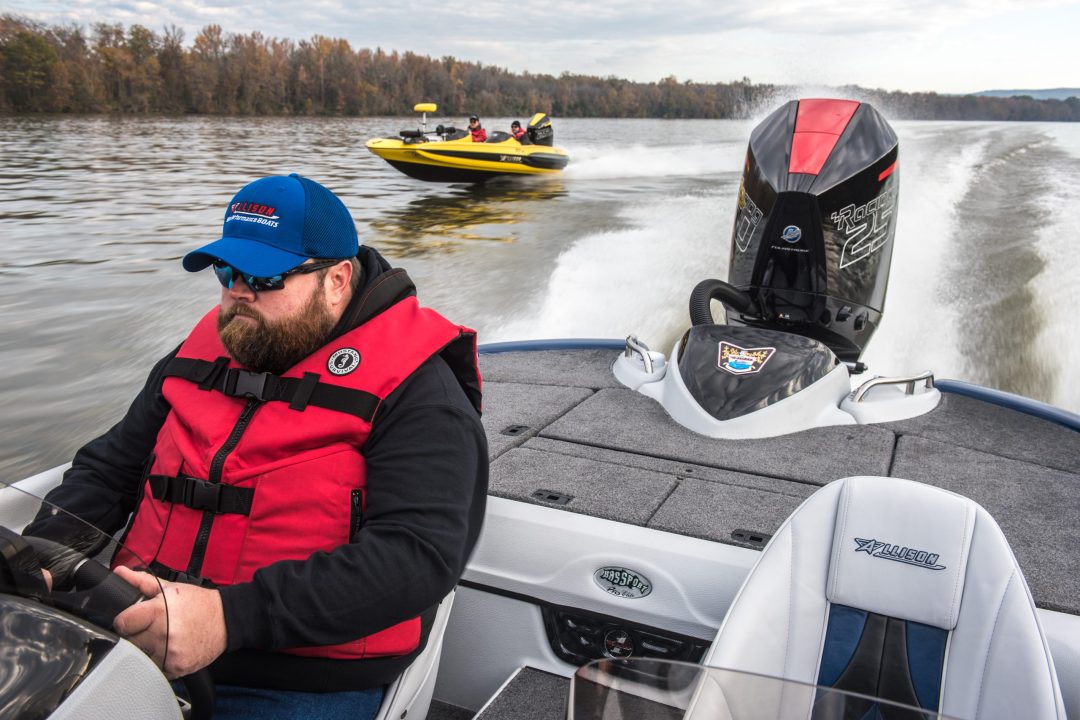 Below is a list of Allison Inventions and Firsts along with Facts and Exclusives only Allison can claim.
Click on each list item to find out more information about it.
1. Cupped propeller (1954)
Paul Allison discovered the advantages of cupping a propeller by accident. This small curl on the trailing edge of the propeller blades reduces cavitation and slippage, thus increasing speed and efficiency.
2. Mechanical engine trim (1957)
Paul realized: tilt the engine down, the boat turns better. Tilt it up, the boat is faster. A jack-screw protruding thru the transom changed the angle of the engine by turning a wheel at the driver's seat.
3. Foot throttle (1957)
The first foot throttle was built with a hinge screwed to the floor and a pedal made from plywood. A screen-door spring was used to return the throttle. This freed one hand to control the engine trim.
4. Hydraulic engine trim (1958)
A Porta-Power hydraulic jack was used to replace the jack-screw to trim the engine. It was quicker and easier by pumping the handle to trim out and by turning the valve to trim in to a pre-set position.
5. 60 MPH Pleasure boat (1960)
Paul Allison drove the very last "plywood" Allison boat with a 6 cylinder 80 HP Mercury to become the first pleasure boat to break the 60 MPH barrier with his 61.856 MPH two-way average record speed.
6. "High performance" fiberglass sport boat (1961)
The first fiberglass Allison elevated pleasure boating to a higher level. This 14′ high performance screamer beat everything in its class and instantly became the fastest of all fiberglass pleasure boats.
7. Molded-in fiberglass bucket seats (1962)
With automotive influence, Paul introduced styling that would endure for over 40 years. It had the first molded-in, back-to-back contoured fiberglass seats. The comfort-shape seats required no padding.
8. "High performance" fishing boat (1962)
Darris Allison, using his dad's 13′ hull mold, built the first true high performance fishing boat. At 40 MPH with only a 20 HP Mercury and 60 MPH with a 50 HP, no fishing boat could run with this hot-rod.
9. Pedestal seat for fishing boats (1962)
With no commercially available pedestals to mount the fishing seats, Darris built a painted-steel swiveling seat pedestal that was permanently mounted on a low front fishing platform.
10. Nose-cone for gear case (1963)
Paul Allison experimented with reshaping the gear-case nose with Bondo plastic filler. Although blow-out was not a problem at that time, a couple of extra miles-per-hour was always welcome.
11. Torque tab on lower unit skeg (1963)
With a cupped propeller and higher horsepower and engine settings, the regular trim tab would not work. Paul curved the engine's skeg with Bondo body filler to reduce torque on the steering wheel.
12. Running PAD on V-bottom boats (1967)
Paul figured if a man could ski on a board, so could a boat be lifted higher on a ski attached to the bottom of a shallow (15°), V hull. It worked!! The V-bottom boat has never been the same since!
13. Deep-V / PAD hull (1968)
Paul wanted the boat to ride better in rough water, so a narrower pad on a deeper (20°) V was the answer. The boat was faster, smoother, and turned much quicker. Voilà: the best hull ever conceived on a boat.
14. Fishing boat / V-hull PAD bottom (1968)
Darris experimented with a V-hull and pad on his fishing boat. It was faster than other boats with twice the horsepower and rode better in rough water than hulls 50% longer. An unbeatable combination!
15. Adjustable tunnel in bottom of boat (1968)
Darris experimented with a hinged section in the tunnel roof to create more air-lift and more speed. The concept worked but it also added lift to the bow. Just the opposite of what was desired for tunnel boats.
16. 100 MPH Pleasure boat (1969)
One morning in the fall of 1969, Leon Jordan Jr. drove an 18′ Allison with twin 125 Mercurys to become the first V-bottom pleasure boat in history to break the 100 MPH barrier: setting a new world speed record!
17. ing stabilizer for boats (1970)
Paul Allison introduced the first "Daytona" wing stabilizer on a boat. It improved the stability of both V-bottom and tunnel hull race boats at high speeds and increased their lap speeds in closed-course races.
18. Adjustable front foil for tunnel boats (1970)
Paul improved the safety of tunnel hulls with his foot-controlled front flap. When running into a headwind the flap could be turned down, producing down-pressure, and preventing the boat from flipping over backwards.
19. V-bottom production bass boat (1970)
Using his dad's discarded 16′ hull mold, Darris introduced the world's first V-bottom bass boat. This boat being 10 years ahead of its time, would later become the industry standard for bass boats. Not a bad idea!
20. Deep-V / PAD bass boat (1970)
The first V-bottom bass boat had a deep (20°) V with 10″ pad. Most fishermen at that time considered a V-hull bass boat as being unstable. Most of them didn't know about the fast, smooth ride they were missing.
21. Wide-body bass boat (1970)
Most bass boats were 60-65 inches wide at that time. At nearly one foot wider, Allison introduced the widest bass boat of its time. The added width, of course, negated most of the stability argument.
22. One piece molded bass boat interior (1970)
Most bass boat interiors were built with plywood and covered with fiberglass. Since these boats were destined to rot, Allison's one piece molded interior was light-years ahead in looks and longevity.
23. Center-mounted live-well (1970)
In its deep-V hull, Allison placed the live-well in the centerline of the boat. This provided better balance, better ride, and protected fish better, than other bass boats with live-wells placed in the side compartments.
24. Organized built-in tackle boxes (1970)
Allison was at least 25 years ahead of other boats with its organized tackle storage in small drawers located in built-in hinged compartments. A floor locker also provided space for multiple tackle boxes.
25. Cooler & cook stove in bass boat (1970)
Even Allison bass boats of 1970 contained features unheard of in other boats. A fold-out shelf allowed the fisherman to access the ice box and cook on a Coleman stove while fishing from the rear seat.
26. Tri-hull V bottom bass boat (1972)
Fishermen not quite ready for a V-bottom bass boat prompted Darris to invent the Tri-hull/V. A tri-hull at the front and V-bottom at the rear, this boat became the best of both worlds in bass boat design.
27. Remote control live-well (1972)
Most bass boats had only a plug in the bottom of the live-well or no drain at all. By extending the handle of a plastic valve to the top, the live-well only in an Allison could be filled or drained remotely.
28. Set-back jack-plate (1972)
Darris figured it was better to use the engine's weight and leverage, to help its horsepower to lift the bow of the boat. Allison's set-back jack-plate is, without doubt another revolutionary invention.
29. In-hull transducer for depth-finders (1972)
The early depth finder transducers were big and had to drag thru the water. Darris glued the transducer inside the hull to a solid fiberglass block. Result: perfect readings with no speed loss!
30. Molded-in Transducer box (1973)
Darris' early transducer boxes were deeper and allowed the transducer to sit in the box in a cup of water. No glue was necessary. Today, water is used for a quick fix, only if the glued-in transducer fails.
31. Contoured fold-down bass seat (1973)
In the early days, all fold-down bass seats were square-backed. Darris' bass seat, with a more modern seat-back styling, suddenly became the world's most popular bass boat seat design.
32. "Center-Pod" tunnel hull (1973)
Darris started with his dad's 15′ tunnel hull, widened it about a foot, and installed a center pod built from a bass boat mold. The result: A record setting tunnel hull, 10 MPH faster and double acceleration.
33. Set-back (notched) transom (1974)
Since the set-back jack plate enhanced boat performance, Darris expanded the concept by building set-back into the boat's transom. This idea is used today more than ever by nearly every boat manufacturer.
34. 100 MPH Bass boat (1975)
The early depth finder transducers were big and had to drag thru the water. Darris glued the transducer inside the hull to a solid fiberglass block. Result: perfect readings with no speed loss!
35. Patented bass boat design (1976)
Since Darris' earlier bass boat model became the most copied boat in the world, he decided the next generation boats would have patent protection. The patent and boat design was very successful.
36. Modern-day bass boat layout (1976)
The rear biased side-by-side seating, raised front and rear casting decks, center mounted remote control live-well, all built into a single unit design, became the most popular bass boat layout in the industry.
37. Telescopic pedestal seat mount (1976)
The 17′ and 18′ XST bass boats were the first to have a telescopic front power pedestal seat. It simply telescoped down onto the front deck (rather than being removable) allowing the driver more visibility.
38. Current Sportmaster gear-case design (1977)
The current Mercury Sportmaster gear case uses an Allison originated nose cone design. The Allison fiberglass nose cone was donated to Mercury in order to improve the performance and safety of gear cases.
39. Winged hull side design (1982)
The current winged hull-side was originally designed to be a functional improvement. The functional wing shape improves the boat's stability at high speed. A production builder has copied its cosmetics only.
40. Streamlined bow-stop (trailer) (1983)
The streamlined bow stop found on all current Allison boat trailers (as well as on other trailers) is an original Allison designed and engineered concept. The contoured frame is also an Allison design.
41. Adjustable driver seat (1983)
No; one size does not fit all! Allison introduced the adjustable driver seat 25 years ago. Its purpose is for better control, safety, and comfort. So why isn't it in all boats like it is in all vehicles?
42. All composite (no-rot) bass boat (1986)
In early bass boats, wood was common, rot was common, especially transoms. Darris made up his mind to build his customers a trouble free, rot-proof boat. Now Allison bass boats will last a lifetime and more!
43. Composite (no-rot) transom (1986)
Allison has now had a composite (Rot-proof) transom for over 20 years. It still is the only transom with a structural aluminum internal frame. Not only rot proof, but the strongest in the industry, hands down!
44. Raised flipping deck for bass boats (1986)
The Allison XB-2002 had the first raised flipping deck. The driver and front seat passenger's is seated with their legs under the deck as in a runabout boat. It's fast and functional!
45. Trim switches built-in wheel (1987)
High speed boating requires the driver's full attention and both hands on the wheel. The Allison steering wheel (prior to hydraulic steering) had the trim switches built into the wheel with concealed wiring. (Please encourage Teleflex to release their new wireless steering wheel controls for hydraulic steering)
46. Bow frame design boat trailer (1990)
Allison boat trailers have an original contoured (curved to fit the boat) frame design instead of an A-frame. They also have a built-in spare tire carrier and a walk board to assist in launching. Others have followed.
47. Top cable entry foot throttle (1994)
The use of a foot throttle in a boat with center steering creates a hazard with the control cable spanning the floor. Darris' reengineered throttle cleaned up the floor by bringing the cable in from under the dash.
48. All LED interior lighting (2003)
Allison's up-to-date concept in its compartment and interior lighting with magnetic switches, LED fixtures, and super low battery drain, is as fool-proof as it is maintenance free. Another step forward!
49. No-play AHP hydraulic steering (2003)
Darris helped Teleflex to reengineer its Sea Star Pro hydraulic steering into the world's best high performance steering by removing 3/4 of the side-to-side play in the wheel. Handling is the winner!
50. World's fastest boats
Allison boats have won more races and have set more speed records than all the competition combined! Only the world's fastest boat can make that claim. Allison boat's many world speed records show for it.
51. World's most fuel efficient boats
Designing and building the world's fastest boats is no accident. If a boat is faster using the same horsepower, it must have lower drag. Allison's ultra-low drag means double fuel mileage of other boats.
52. World's best riding boats
An Allison boat's deeper V, longer keel-line, and high-lifting running pad allow it to fly over choppy water instead of pounding through it. Any Allison owner will verify his boat rides best after riding in others.
53. World's most durable boats
Allison boats, with no-rot composite core, Unibody construction, and structural aluminum transom frame, will last more than a lifetime. It's the last boat you will need to buy-and your kids-and grandkids-and their kids.
54. World's winningest boats (most races won)
If you are fast enough, you win. Since Allison boats are the fastest, they win: actually more races than all the competition combined over the past 50 years. Speed increases the chances of winning fishing tournaments too.
55. Holder of the most world speed records
Allison boats hold all the current speed records they have competed for. Over the years, Allison boats have set more speed records than all other competitive brands combined. Definitely the fastest boats available!
56. World's most copied & highest quality boats
In the 70s, before patents were obtained, over 100 boat companies either molded from or otherwise copied Allison boats. They have come and now most are gone. Not one could ever match the Allison quality.
57. World's only Sport Utility Boat
The XB-2003 and XB-21 ProSport boats, with seating for up to 5 persons, all fishing equipment, skiing equipment, and full wind protection, are the world's first and only Sport Utility Boats. Do everything boats!
58. Patented deep-V/ pad, boat hull designs
The current Allison patents have kept copiers at bay. Since Allison is the inventor of the deep-V/ pad hull, no other company could ever match its many performance and efficiency features. Advantage: Allison!
59. Patented concave tunnel chines
The concave chines catch air as it escapes from under the hull adding speed and stability to the boat. In rough water and wind, it helps keep passengers dry by catching spray coming from under the boat.
60. Patented stepped strake efficiency
The stepped strakes provide lift and stability with less wetted area resulting in more speed and acceleration. A smoother, dryer ride with better handling is also attributed to the stepped strakes.
61. Patented built-in Planning Tabs
Molded into the pods on each side of the engine, the planning tabs help lift the boat up and on plane quicker. The added buoyancy also floats the boat higher at the rear and provides side-to-side stability.
62. Patented Hydro-planning foil (Cavitation plate)
The Allison Hydro-planing foil bolts to the cavitation plate on the engine and provides a quicker "hole-shot". Unlike all other planing devices, it has forward-swept wings and will not slow the boat at high speeds.
63. Patented Skid-planer (2X hole-shot speed)
The channeled air planing device (skid planer) brings most boats on plane twice as quick. Attached under the jack plate, it lifts the rear of the boat, deflects water off the engine, and eliminates the vacuum behind the boat.
64. Lift-producing lip on trailing edge of pad
The small wedge, known as the "lip" on the trailing edge of the pad on every Allison boat lifts the entire boat and adds acceleration and speed. Paul Allison conceived the lip to work similarly to his cupping of a prop.
65. Unibody fiberglass bass boat construction
All Allison boat hulls and decks are fiberglassed and bonded inside and out to form a single piece. This Unibody construction is the strongest in the industry. Stainless steel bolts are utilized for additional strength.
66. Steel-reinforced structural frame transom
No other boat company can claim a stronger transom. The XB-2002 has a structural steel frame reinforcing its rot-proof PVC high-density foam cored transom. All other Allison models have an aluminum transom frame.
67. Integrated Structural Aluminum transom frame
All Allison boats (except the XB-2002) have an exclusive, high strength, structural aluminum alloy frame reinforcing its rot-proof, high-density, PVC foam cored transom. Now the strongest and most durable transom.
68. Six bolt engine and jack-plate mounting system
With today's high-powered and excessively heavy engines, why trust only 4 bolts to secure the engine or jack plate? Allison uses 6 bolts for the jack plate and 6 bolts for the engine. 50% more bolts is 100% secure.
69. Molded-in Aluminum backing plates
Rest assured; there will not be bolts pulling out! Everywhere something bolts down, there is an aluminum backing plate laminated in. Seats, foot throttle, or trolling motor will be there until you want them out.
70. Leather-grained textured fiberglass interior surfaces
In the tradition of automotive interiors and unlike other boats, Allison interiors have a leather-grained textured surface. Its soft-look is deceiving with a scratch-free, non-skid surface that will endure for generations.
71. Full wind protection bass boats
Most bass boats have tremendous aerodynamic drag. Allison bass boats provide the maximum wind protection for its passengers, not only for comfort, but to minimize air-drag which definitely increases speed.
72. Four-seat bass boats
Most Allison bass boat models have four seats. This not only provides extra seating for fishermen with families, but with its removable seats, also provides serious fishermen with added room for tackle and gear.
73. Runabout seating position bass boats
The XB-2002 and ProSport models allow the driver and front seat passenger to sit with their legs under the dash and deck as in a runabout boat. This provides speed, comfort, and safety not available on other bass boats.
74. Most storage volume of all bass boats
Allison bass boats have all under-deck areas fully accessible. Some compartments are large enough for a person to crawl into. All compartments are organized for maximum storage capacity and versatility
75. Quick access, multi-position, tackle storage system
Only Allison has a complete tackle storage system. Only Allison offers in up to 12 different positions, an array of tackle boxes and trays that sit within easy reach, just under the lid, at the top of each compartment.
76. Automotive style recessed instrument panels
Allison boats have automotive styled, recessed and contoured instrument panels with maximum visibility of all instruments. The driver keeps a heads-up view of the more important gauges providing for greater safety.
77. Self latching compartment lids for bass boats
Allison's lids and latches are water proof and latch themselves by simply closing the lid. The lids open by lifting the handle on the latch. Compartments are lockable with only the turn of a key.
78. Aluminum/ foam-grip sport steering wheel
All Allison boats have a light weight, strong aluminum steering wheel with a durable foam grip. This sport steering wheel was inspired by Nascar and is built by Grant Wheel Company, exclusively for Allison.
79. Automotive type gear shift
All models of the XB-21 bass boats have an automotive style "floor shift" within easy reach of the driver's right hand. No, it's not a 4 on the floor but it does shift like a sports car! Engine will start only in neutral position.
80. Adjustable Racing type bucket seats
No seat is more comfortable or more secure than an Allison, racing type, deep bucket seat that comes standard on all Allison boats. And to make it even better, it is fully adjustable to fit every driver.
81. Side slide adjustable driver seat
Sometimes you want someone sitting beside you and other times you want to fly solo. The "side slide" will allow you to do both. Drive the boat from the center for balance, or slide over for some good company.
82. Two position passenger seat mount (swiveling)
The passenger seat plugs in and can swivel to face backwards. The two position seat mount will allow a short person to sit forward for comfort and safety, or a taller person to move the seat back for more leg-room.
83. Telescopic ski tow-bar (doubles as seat pedestal)
The GrandSport can be ordered with a telescopic ski tow-bar. Its high position is for pulling skiers. In the mid-position, the passenger seat can be plugged in for relaxing or fishing. It pushes down when not in use.
84. Molded-in "quick draw" fire extinguisher holder
All 21′ bass boats as well as future models will have a built-in "quick draw" fire extinguisher holder. Simply adjust its Velcro strap to fit most marine fire extinguishers and just slide the fire extinguisher in or out.
85. Built-in trash receptacle (Head)
Why don't all boats have a built-in trash receptacle? All Allison 21′ boats plus all future models will have it. This simple idea with a very practical value will also serve as an emergency head.
86. Emergency (head) in bass boats
In most tournaments, if the fisherman leaves the boat for any reason, he could be disqualified. Since the trash receptacle, built into all 21′ Allison bass models, doubles as an emergency head, the problem is solved.
87. Flush built-in docking lights
All 21′ Allison boats have powerful flush-mounted docking lights with aerodynamic Lexan covers. They are perfect for docking, trolling dark coves, and loading the boat on the trailer. Adjustable headlights are optional.
88. Flush built-in adjustable headlights
Adjustable headlights are a must for night-time running. The dash-mounted control knob elevates or lowers the lighting for differing speeds and trim, plus the foot switch provides instant on/ off convenience.
89. Flush mounted built-in horn
Boat horns are a U.S. Coast Guard requirement, but are not very well positioned on most boats. The 21′ Allison has a water-proof horn flush-mounted into the bow and it sounds off in the direction it is needed.
90. Lift-up (easy access) instrument console
The XB-21 BasSport Tournament 2+2 has a driver console that tilts up to provide easy access to the fuse panel, gauges, and GPS equipment. The passenger console tilts up with a convenient storage compartment.
91. Easy lift trolling motor placement
Only Allison provides a straight-forward, port mounted trolling motor placement. This allows the operator easy, one-hand, stand-up convenience for putting the heavier trolling motors in and out of the water.
92. (Comfort angle) trolling motor foot pedal tray
The recessed trolling motor foot-pedal tray is angled forward making the pedal level and flush when the boat is trolling straight ahead. This makes it easy to control the trolling motor while fishing in any direction.
93. Quick-draw/ organized/ bulk rod storage
The XB-21 BasSport Pro rod locker(s) has organized storage for up to 25 rods with 5 rods in a (5 second), under-deck, quick-draw storage. Plus it has a bulk rod storage area for a quick trip back to "weigh-in".
94. Rod storage trays above deck
Fishermen want their rods on the deck for quick access. The 21′ model's above-deck rod storage trays provide a clutter-free deck, yet allows for quick access to 6-8 rods. No more broken rods from being stepped on.
95. Disappearing sliding rod locker doors
The XB-21 BasSport Tournament 2+2 has twin organized rod storage compartments with disappearing sliding doors. Doors can remain out of sight during use and be slid shut and locked for security.
96. Magnetic switches for compartment lighting
The LED compartment lighting is controlled by magnetic switches placed under the deck where they are never exposed to water. These switches work perfectly each time a lid is opened and closed.
97. Live-well flush-out drain
All 21′ bass models have a 1 1/2″ drain which allows the 40 gallon live-well to fully drain in less than 60 seconds. With the plug removed, the live-well can be washed and flushed out with a full force water hose.
98. Easy access (quick-change) aerator pumps
With quick, easy access, located behind the trash receptacle, the cartridge type aerator pumps can be serviced or changed in seconds. No more standing on your head just to reach the aerator pumps.
99. Quick change windshields (choice of heights)
The BasSport models have windshields that can be completely removed for more air or changed out from the summer-time windshield to a taller version for more wind protection for colder weather.
100. Convenient grab handle at bow
The convenient grab handle at the bow of every Allison boat makes it easier to hold to the boat while loading on the trailer, pulling it up to shore, or tying up when docking. It's just handy to have when needed.
101. Lowest cost-of-ownership
Allison boats will go twice as far on a gallon of gas. Consider this fact: when fuel and oil cost is added to your monthly payment, the Allison would cost less to own than other comparable size and equipped boats. So why not buy the best boat, which also happens to be faster, it rides better, and is much better equipped, especially if it came with a lower monthly total cost of ownership? Enjoy the Allison Advantage!
102. E-Ped (Electronics Pedestal) 2010
The E-Ped is a telescopic mast that elevates the fish-finder to a convenient height, bringing the electronics closer to the fisherman. It makes operating the fish-finder much easier and more effective by providing a better detailed view, with less fatigue, and requires less bending and kneeling. Any size fish-finder will retract completely flush into the bow panel.