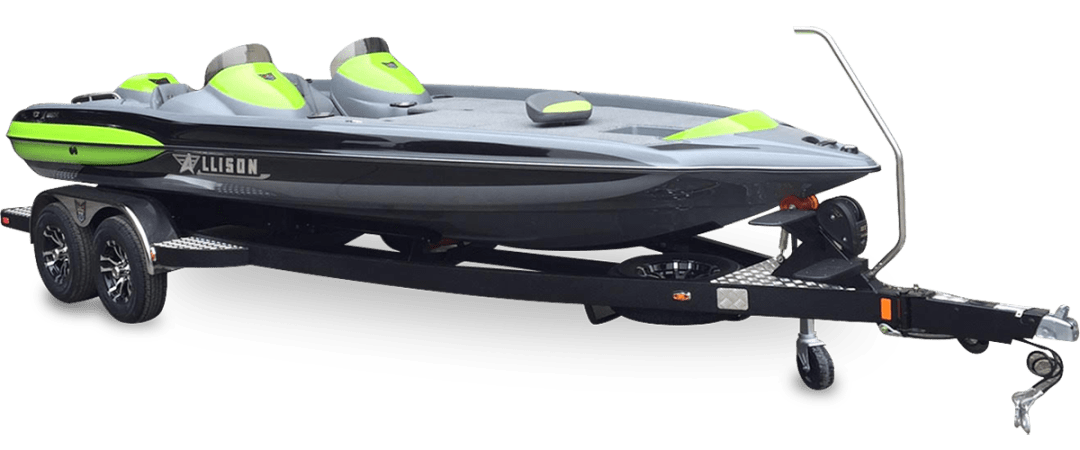 The BasSport Pro and BasSport Pro Elite – the result of nine years of research and development gives the professional fisherman more features, conveniences and innovations than all other bass boat brands combined. When it comes to performance, efficiency, comfort, convenience, versatility, durability and fishability, the BasSport Pro beats the competition in all categories!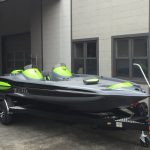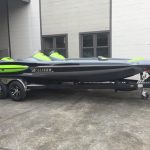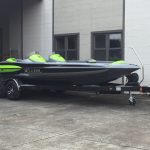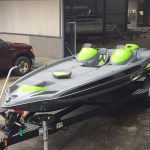 Performance
Patented Ultra-low-drag Hull Design
All Composite (Rot Proof) Unibody Construction
Exclusive Composite Transom
Recessed Well for Trolling Motor Foot Pedal
Allison Manual Jackplate (Adjusts from Inside the Boat)
Allison Custom Designed Sea Star Tournament Series® Hydraulic Steering
Allison Automotive Style Gear Shifter
Allison Custom Hot Foot Throttle
Sport Steering Wheel With Signal Lever Trim Switch
Allison Automotive Style Recessed Instrument Panel and Gauges
Patented Skid Planer (Helps Boat Plane Twice as Quick)
Systems
1000 GPH Bilge Pump
Automatic Fresh Water Recirculator Aerating System & Flush Drain
Back-up Livewell Recirculator w/Pump-out Valve
35 Gallon Fuel Tank w/Built-in 3 Gallon Reserve, Fuel Valve
Battery Tray for Starting Battery
Starting Battery Compartment Cover
Mercury Ignition Key & Safety Kill Switch
Built-in Trolling Battery Compartment
Sliding Lid Cover for TM Batteries w/Built-in Tackle/Tool Box
Twin Livewell Lids
Navigation Bow Light
Docking Lights
Stern Light Receptacle
Electronics & Instrumentation
Wiring Harness w/Master Breaker
Bow Panel w/24V Trolling Hook-up w/#6 Wiring w/50 AMP Breaker, 12V Receptacle, and Tilt Switch
Mercury® SmartCraft Package 1   Includes Round Monitor Gauge, Link Tachometer, & Fuel
18″ E-PED w/Panel (Required for 12″ Electronics)
Comfort, Convenience, & Safety
Adjustable Driver Bucket Seat
Passenger Bucket Seat
Bike Seat w/Mount & Adjustable Pedestal
Rear Deck Pedestal Mount
Triple Tackle Box (Drop-in)
Accessory Tray w/Plano Box
Rod Straps on Deck
Organized 20+ Rod Storage System (Plus Deck Rod Tray)
Integrated Side Storage in Cockpit (Carpeted)
Carpeted Deck w/Storage Compartments
Storage Compartments w/Flush Mounted Lid Locks
Gas Spring Lid Assists
Carpeted Cockpit Floor
Molded-in Driver & Passenger Carpeted Footrests
Integrated Glovebox in Passenger Console
Built-in Insulated Cooler
Integrated Drink Holders
Passenger Assist Handle
Bow Assist Handle
Stainless Steel Swim and Boarding Rails
Rubber Non-Skid Step Pads on Bow
Textured Non-Skid Interior and Deck Sides
Bow and Stern Eyes
Boat Cleats
Trash Receptacle
Manual Drain Plug
Built-in Fire Extinguisher Holder
Horn
Short (Quick-Change) Windshields
Trailers
Deluxe 5″ Channel Frame Trailer Tandem Axle 
Deluxe 5″Tube Trailer Tandem Axle optional
Black Elite shield coating on Deluxe Steps w/alum Tread Step Pads
Aluminum Tread on Bow Step (Channel Trailer Only)
Alloy Wheels w/Radial Tires
Spare Wheel and Tire
Walk Board
Spare Tire Carrier
Trailer Buddy® Gold Series Oil Bath Bearing Protector Hubs
Hydraulic Surge Disc Brakes w/Electric Back-up Release
Swing-away Tongue
Heavy Duty Center-swing Jack
Leaf Spring Axles
Retractable Trailer Tie-downs
Bow Safety Latch Turnbuckle
Bow Keel Roller
LED Lighting
Back-up Lights
The BasSport Pro, the result of nine years of research and development, gives the professional fisherman more features, conveniences, and innovations than all other bass boat brands combined.  When it comes to Performance, Efficiency, Comfort, Convenience, Versatility, Durability, and Fishability, the BasSport Pro beats the competition in all categories!
Casting Decks
The 9 ft. long front deck is carpeted and has over 43 sq. ft. of casting area. An integral aluminum frame supports the front deck with a welded-in pedestal seat mount. To maximize comfort and control, a unique trolling motor foot pedal well is incorporated into a wider-than usual forward deck. The trolling motor, mounted to a laminated-in aluminum plate, runs fore and aft rather than diagonal to the bow. This not only gives better visibility and aerodynamics, but also saves your back since it easily raises and lowers in and out of the water with only one hand. The 28 sq. ft. rear deck is accessed by a handy step-up between the seats. The deck extends around both sides of the engine, which allows the fisherman more room to better access the fish. Servicing the engine or climbing on board from the water is also easier. The large flotation pods stabilize and float the rear of the boat high enough to keep the rear deck dry when coming off plane. A port side rod tray with tubes plus a starboard-side tube are incorporated into the deck giving quick access to rods without having them under foot.
Livewell
The state-of-the-art 38-gallon divided livewell has rounded corners providing maximum circulation. It has available dual fresh water and recirculator cartridge pumps that pull from opposite sides. The automatic system pumps-in fresh water when fishing and re-circulates it when the boat is on plane. Air is injected directly into the water through an underwater outlet. The recirculator pump can also be used to pump water out of the livewell when needed. Allison's exclusive flush-out drain allows a full livewell to be emptied in seconds, making flushing and cleaning much easier.
XB-21 BasSport Pro Exclusive Features
Acceleration
Hole Shot
Gas Mileage
Fishing Efficiency
Speed
Superior Ride
Wind Protection
Comfort
Convenience
Cost of ownership
Durability
Load carrying ability
Construction
The world's fastest and most efficient bass boat is also the most durable. The XB-21 BasSport Pro features an exclusive rot proof unibody all-composite construction consisting of the finest materials available: Marine Resin, NPG gel coat, Biaxial fiberglass, Kevlar, High density PVC foam cored hulls, decks & floors, and a unique fiberglass stringer system. The high density PVC cored transom with its exclusive structural aluminum frame is rot-proof and virtually indestructible with 6 stainless steel studs mounting a powder-coated adjustable jack plate. (Engine is also mounted with 6 bolts)
Designed specifically for the professional bass fisherman, the new XB-21 is packed with features and accessories to provide the most incredible boating experience. This next generation of the XB-21 BasSport Pro is fast, fun and functional! Loyal Allison owners know that if you want speed and versatility, the XB-21 is THE BOAT for you. We've engineered even more into this new boat than ever before. The new XB-21 gets more than double the fuel mileage. It also features exclusive quick-draw rod storage for a clutter free deck, more storage than previous models and a ride you will not believe! In addition to offering all the normal features of any tournament bass boat, the XB-21 BasSport Pro has more exclusive, innovate features than any other bass boat! With this boat, YOU CAN HAVE IT ALL!
Allison Exclusive Features
The Allison High Performance (AHP) Hydraulic Steering system is especially designed for performance with maximum sensitivity and safety. The aluminum/ foam-grip sport steering wheel and twin column trim switches are standard.
The Allison Hot foot throttle has the throttle cable top mounted and neatly out of the way.
The Allison muscle car styled shifter not only changes gears smooth and comfortable: it looks great.
The standard Allison jack plate is black powder coated and has adjustable setback as well as vertical adjustment. Hydraulic jack plate is optional.
Hole-shots are 3-seconds with the patented Allison "Skid-planer". This fantastic device helps the boat to plane at only a touch of the throttle, hold plane at only 18 MPH, and plane without the need to trim the engine under.
Aerodynamic docking lights put light where it is needed for docking and loading on the trailer.
(Adjustable headlights for night-running are optional and can be adjusted from the driver seat) A built-in horn sounds-off at the bow rather than blasting the driver out of his seat.
A built-in adjustable fire extinguisher holder gives instant access to your fire extinguisher.
A built-in double-walled 38-quart ice cooler will hold 2- liter bottles and will keep ice for days.
A passenger-side glove box is carpeted and has a built-in radio panel. The twin console model comes with an attractive automotive style lid, a 12-volt receptacle, and also has a built-in radio panel.
There is a built-in trash receptacle under the step-up between the seats. Its 5 gallon container has a potty seat, is easy to maintain, and has many other uses as well.
The built-in Trolling motor battery compartment is located mid-ship, with easy access, and accepts up to group 31 batteries. Its short no. 6 battery leads increase trolling efficiency for added battery life. The optional sliding battery cover includes a handy tool and accessory box.
A unique trolling motor foot pedal well is molded into the front deck. The pedal is flush and level with the deck when trolling straight forward for maximum comfort and control.
The main battery position has easy access in the compartment behind the passenger. The optional master switch and fuse panel are located in the lockable compartment behind the driver.
Other Equipment
The BasSport Pro comes on a heavy-wall, channel-frame, tandem-axle trailer. This high quality custom trailer has disc brakes, LED lighting, oil filled bearings and optional stainless steel fenders, aluminum  wheels, spare tire and galvanize.
*Standard equipment subject to change.
The BasSport Pro has more standard equipment, variety of unique features, innovations, and conveniences than all other bass boat brands combined.
Compartments
With over 70 cu. ft. of volume, the BasSport Pro has more rod storage, more tackle storage, more organized storage, and more convenience storage than any other bass boat. All lids have waterproof, flush mounted locks that automatically latch securely when they are closed. Pneumatic lid supports are standard.
Rod & Tackle
Allison offers the most rod storage and versatility with 3 types of storage for up to 30 rods. (1.) Organized storage with holders and tubes, (2.) Quick-draw storage allows 5-second access to rods while protecting and keeping them from under foot until needed, and (3.) Bulk storage making it a snap to bundle all rods, stash them in the compartment, and dash back to the weigh-in. Additional quick-draw and other rod storage in the port side compartment can be ordered to almost double the rod storage capacity. A variety of Tackle boxes and trays are designed to hang just under the lids of 5 compartments with up to 12 positions. Other tucked away tackle and accessory boxes are available.
Driver Console
The security of an adjustable deep bucket seat, the best wind protection, total instrument visibility, and the best driver ergonomics makes the BasSport Pro the most comfortable of any bass boat. Customize the amount of wind protection with a choice of a short or tall windshield. (Order both for versatility)
Electronics
A fish-finder is available at the bow up to 12″.  A GPS fishfinder (up to 9″) is available in the instrument panel. It is a fish-finder, depth gauge, a full-navigational GPS, and serves as the boat's GPS speedometer.
Instruments
A full set  gauges is available.
Smart Craft Instruments
Engine monitor gauge, Link Tach, and fuel are available.
*Standard equipment subject to change.
Fully Adjustable Bucket Seats
Only Allison has fully adjustable bucket seats for comfort, security, and control. The driver's seat is mounted on a slide-adjuster and the passenger seat has a two-position seat mount. The passenger seat can also be pedestal-mounted for fishing on the front or rear casting deck. Fold down fishing seats are available as exchange for the driver and passenger seats.
The XB-21 BasSport Pro is available in a choice of standard base gelcoat colors (white or a light color) with a choice of a trim color (second color) on the hull sides, hull and deck wings, and console(s). The interior is leather-grain texture and coordinates with seat colors. Special colors, black on the consoles, as well as other color combinations including the Elite three-color gelcoat are optional.
Black or any dark base color is not available. A choice of Beechnut burl (wood grain) or Laser wave (carbon fiber) is available on all dash and trim panels. *Standard colors subject to change.