Bassport 2+2 Tournament Edition
The XB-21 BasSport 2+2 is a four or five seat, all composite, twin console bass boat, just perfect for the whole family!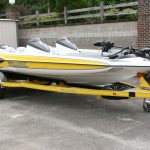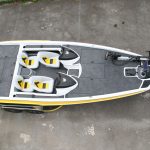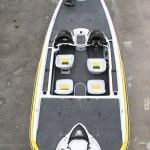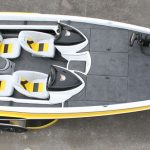 Performance
Patented Ultra-low-drag Hull Design
All Composite (Rot Proof) Unibody Construction
Exclusive Composite Transom
Recessed Well for Trolling Motor Foot Pedal
Allison Manual Jackplate (Adjusts from Inside the Boat)
Allison Custom Designed Sea Star Tournament Series® Hydraulic Steering
Allison Automotive Style Gear Shifter
Allison Custom Hot Foot Throttle
Sport Steering Wheel With Signal Lever Trim Switch
Allison Automotive Style Recessed Instrument Panel and Gauges
Patented Skid Planer (Helps Boat Plane Twice as Quick)
Systems
1000 GPH Bilge Pump
Automatic Fresh Water Recirculator Aerating System & Flush Drain
Back-up Livewell Recirculator w/Pump-out Valve
35 Gallon Fuel Tank w/Built-in 3 Gallon Reserve, Fuel Valve
Battery Tray for Starting Battery
Mercury Ignition Key & Safety Kill Switch
Two Trolling Battery Trays
Navigation Bow Light
Docking Lights
Stern Light Receptacle
Electronics & Instrumentation
Wiring Harness w/Master Breaker
Bow Panel w/24V Trolling Hook-up w/#6 Wiring w/50 AMP Breaker, 12V Receptacle, and Tilt Switch
Mercury® SmartCraft Package 1  Includes Round Monitor Gauge, Link Tachometer,  & Fuel
10″ Electronics Pedestal (E-PED) (Not Available for 12″ Electronics)
Comfort, Convenience, & Safety
Adjustable Driver Bucket Seat
Passenger Bucket Seat
Bike Seat w/Mount & Adjustable Pedestal
Seat Bases
Rear Seat: Two Fold Down Seats (w/Pedestal Post) and Trash Receptacle 
Triple Tackle Box (Drop-in)
Rod Straps on Deck
Sliding Doors on Rod Storage in Cockpit (Carpeted) (for 12+ Rods)
Integrated Side Storage in Cockpit (Carpeted)
Carpeted Deck w/Storage Compartments
Storage Compartments w/Flush Mounted Lid Locks
Gas Spring Lid Assists
Carpeted Cockpit Floor
Molded-in Driver & Passenger Carpeted Footrests
Integrated Glovebox in Passenger Console
Built-in Insulated Cooler
Integrated Drink Holders
Passenger Assist Handle
Bow Assist Handle
Stainless Steel Swim and Boarding Rails
Rubber Non-Skid Step Pads on Bow
Textured Non-Skid Interior and Deck Sides
Bow and Stern Eyes
Boat Cleats
Manual Drain Plug
Built-in Fire Extinguisher Holder
Horn
Short (Quick-Change) Windshields
Trailers
Custom Channel Trailer Tandem Axle
Black 5″ Channel Frame
Stainless Steel Fenders w/Rubber Non-Skid Step Pads
Aluminum Tread on Bow Step (Channel Trailer Only)
Alloy Wheels w/Radial Black-wall Tires
Spare Tire Carrier
Trailer Buddy® Gold Series Oil Bath Bearing Protector Hubs
Hydraulic Surge Disc Brakes w/Electric Back-up Release
Swing-away Tongue
Fulton Heavy Duty Center-swing Jack
Leaf Spring Axles
Retractable Trailer Tie-downs
Bow Safety Latch Turnbuckle
Bow Keel Roller
LED Lighting
With the introduction of the all new XB-21 BasSport 2+2 bass boat, the Allison Boat company has just raised the bar for all other bass boat builders. For years Serious Bass Fishermen and Long-Time Allison devotees alike have begged Mr. Allison to build a more traditional Bass Boat. They were asking for the performance of the record holding Allison hull design and a fishing interior that would incorporate useful features not yet found in any other bass boat design. After seven years of development, the new boat is here. It is all that was asked for and more!! With the best efficiency of any 21 footer, the new XB-21 BasSport 2+2 will outrun and outdistance all others. The new boat has storage and convenience features that meet the demands of the most dedicated competitor. Several of the new features address functions that other builders have not even thought of yet.
Starting at the rub rail and going down, the first thing noticed is the all new standard docking lights or optional adjustable headlights. These functional beauties mount in molded cavities in the bow portion of the hull and feature flush fit Lexan covers. Headlight adjustment while underway is a breeze with the dash mounted adjustment knob.
Moving to the rear of the bass boat, exaggerated rear sponsons improve side to side stability while increasing buoyancy. Looking under the sponsons reveals the most new design features to be found on any new model bass boat bottom of any kind. Immediately apparent is the new "SKID PLANER". This simple device makes the hole shot twice as quick without affecting other aspects of performance. Patents were awarded on some of the new features of the bottom.
Allison bass boat bottoms have always been famous for their rough water capability. The new hull is even smoother riding with more deadrise angle and a longer keel. The wide running pad will carry the extra weight of your fishing gear and still provide unequaled fuel stingy efficiency.
Moving up top, the tournament sized front and rear casting decks offer all the space the serious fisherman needs to fight those lunkers. Every cubic inch of space below the expansive decks is utilized for convenient storage of clothing, gear, and rods.
The beautifully molded and curvaceous consoles provide wind protection only bested by Allison's own ProSport bass boat models. Sitting directly behind the console, only a little breeze is felt on the shoulders. You can still wear your cap facing forward at 80 plus MPH. The drivers' console hinges forward revealing a fourteen circuit automotive style fuse panel and instrument compartment. The dashboard is a marvel of design. All the instruments are easily read and there is space for everything including the fishfinder / GPS unit. The rocker switches controlling all electrical functions are well labeled and in easy reach. Sitting in the drivers' seat, the custom Allison gearshift lever falls easily to hand and your foot naturally finds the foot throttle. Both the custom shifter and throttle are standard equipment as is the custom steering wheel.
The passenger console on the twin console model includes a spacious glove box. This console also hinges forward revealing a huge storage area for quick access to essentials. The side console model features similar under deck storage on the passenger side.
Convenient ABOVE DECK rod storage has always eluded Bass Boat builders. The rods that are in use always seem to be in harm's way of getting a big foot planted on them. Allison is the first to solve this problem in a simple and manageable way. There is a above deck rod storage system complete with under deck protective tubes that place up to eight rods in easy reach but not under foot. This revolutionary system is backed up by two under gunwale rod lockers with tubes for the tips and sockets for the butts. The sliding doors on this bass boat are four feet long and lockable but can be left open all day for quick access.
Since tournament fishermen cannot leave the bass boat during the tournament, we have built in a trash receptacle / emergency porta-potti. Normally a convenient place for up to five gallons of the trash from a days' fishing, a simple conversion provides the solution when nature calls.
Above we have detailed some of the more unique features that set the new XB-21 BasSport 2+2 bass boat apart. Following is a complete listing of standard and optional equipment on the Tournament  Model.*
XB – 21 STANDARD EQUIPMENT
The most efficient bass boat in the world is also the most durable with an exclusive rot proof unibody construction consisting of the finest materials available: High performance Marine Resin, NPG gel coat, Kevlar, Biaxial fiberglass, High density PVC foam core in hulls, decks & floors, and a unique fiberglass stringer system. All models have an exclusive aluminum reinforced high-density foam rot-proof transom with 6 stainless steel studs mounting an adjustable setback aluminum jack plate.* Huge 32 sq. ft. front & 24 sq. ft. rear pro casting decks with a vinyl textured and fully carpeted interior also standard. The XB-21 comes standard with gel coat trim on the hull and deck wings. The console(s) has black trim. Interior colors, seats, carpet, and accent striping coordinate with base and trim colors.*
The XB-21 is available in twin console model that will carry up to 4 or 5 passengers.